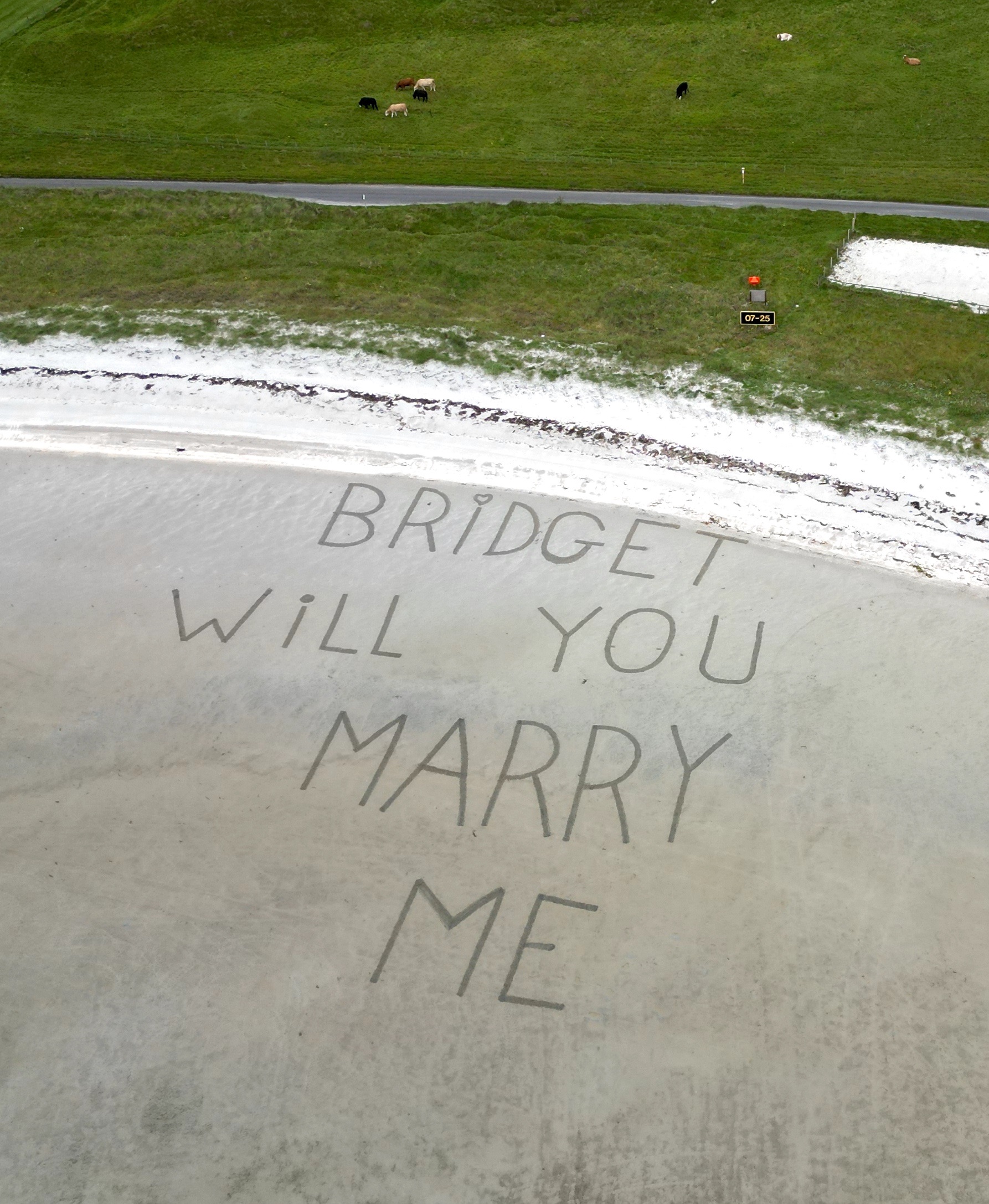 The Traigh Mhor beach runway at Barra Airport was the location of choice for Stephen McCann to ask his now fiancée, Bridget Byrne, to marry him.
Last week saw a beach proposal for one passenger on a flight into Barra Airport.
Barra Airport's Fire Service Watch Manager, Hector MacPhee, commented: "The team at the airport were delighted to assist Stephen in asking this very special question.
"We arranged the message in the sand and kept in touch with Loganair's team throughout the morning, helping to facilitate a fly over the beach so the message could be seen clearly."
See below for Loganair's full press release.
Sky-high proposal for loved-up travel enthusiasts
They say love is written in the stars but for Loganair customers Stephen McCann and Bridget Byrne, their romance was written in the beach at Barra.
The couple were amongst the airline's customers travelling to the famous island last week when photographer and fitness instructor Stephen, from Torrance, staked his claim for surprise engagement of the year by using the world's only tidal beach runway to make a sky-high proposal to girlfriend Bridget.
With the help of Highlands and Islands airport staff, Stephen had the message "Bridget will you marry me?" etched into the sand in letters so large they could be seen from the air as the couple approached the island on a Loganair flight booked for Stephen's 50th.
Reading the words, a stunned Bridget, 42, who owns Cafe Alba in Milngavie, said "yes," much to the delight of everyone onboard – in particular a relieved Stephen.
After meeting at an Arcufit fitness class in Bishopbriggs in 2020, the couple have enjoyed three years together sharing their love of travel and their latest trip to the picturesque Isle of Barra was planned by Bridget, as a 50th birthday present for Stephen.
Loganair's flight from Glasgow to Barra is the only commercially scheduled flight in the world to use a tidal beach as a runway – making it a bucket list journey for many and a special location for Stephen's romantic gesture.
Stephen said: "When I first had the idea of a beach proposal, I didn't think it would be possible but after reaching out to the Loganair and Barra Airport team, they were so accommodating. Ultimately, we were relying on mother nature as a high tide could easily wash away the writing in the sand. I was seriously stressed, but literally just before take-off, I got confirmation the message was in place, pilots were briefed, and it was all systems go.
"From then, it couldn't have gone any better. Bridget got the surprise of her life looking out the window, so much so she nearly forgot to say 'yes'. Thankfully she did, and everyone cheered then when we landed, I was able to go down on one knee and complete the proposal.
"It really was a special moment and beyond anything we could have hoped for. I can't thank Loganair, their staff, the pilots and everyone at Barra Airport enough for all working together to make this happen. It's something we will both never forget."
Daniel Tye, Captain at Loganair, said: "It's always special to land at Barra, but it was extra special to overfly the beach so that Bridget could see the proposal written in the sand. I was able to see the happy couple from the cockpit and it was wonderful to see her reaction as she saw the message. It's a joy to operate on this route and was a privilege to play a small part in their special day."