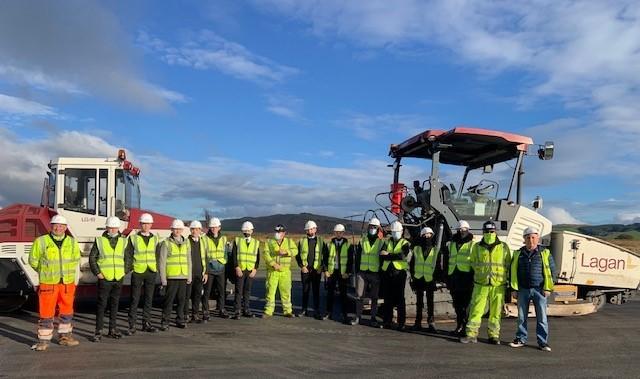 Highlands and Island Airports Limited's (HIAL) Campbeltown airport runway refurbishment project provided a unique experience for Argyll College engineering students on 3 November.
The students, aged 15- 16 years old, were invited to tour the working site with contractors Lagan Aviation & Infrastructure and Campbeltown airport manager, John Lamont.
The site visit demonstrated the social and economic benefits provided to communities by these types of projects. HIAL is committed to supporting the essential socio-economic role of aviation in Scotland by maintaining and developing its airports and the connections they provide to some of its most remote communities. The students were shown the diversity of careers open to them at Campbeltown and the wider aviation sector.
John Lamont said: "This is such a significant project for Campbeltown airport and the surrounding community. It was great to be able to show the students from Argyll College the work that has gone into the new runway and what the project involves. It's not an everyday experience for people from the local community to see a whole new runway being laid."
Brandi Davey, project manager at Lagan Aviation & Infrastructure, said: "It was a good opportunity to invite engineering students from the local college to see the works in progress. The students were really engaged in what we were doing and asked lots of relevant questions during the visit."
Argyll College Schools Link and Apprenticeship Officer, Dawn Miller said: "The students, who are pupils from Campbeltown Grammar School studying Skills for Work Engineering at National 4 and 5 through Argyll College UHI, were given an invaluable insight into different aspects of engineering and construction involved in the runway project, and possible future career paths by attending the site visit. This is particularly beneficial as the students involved will be choosing their subject options for the next academic year in school shortly."
The runway refurbishment is a significant project for Campbeltown airport and has been progressing well, despite some weather disruptions. The old asphalt surface of the runway has been removed, the binder course laid, and the top surface of the new runway has been laid. The estimated £4million investment will protect the long-term future of the airport. It will also allow current weight restrictions for aircraft over 6.85 tonnes to be removed and ensure it continues to provide lifeline services to the local community.