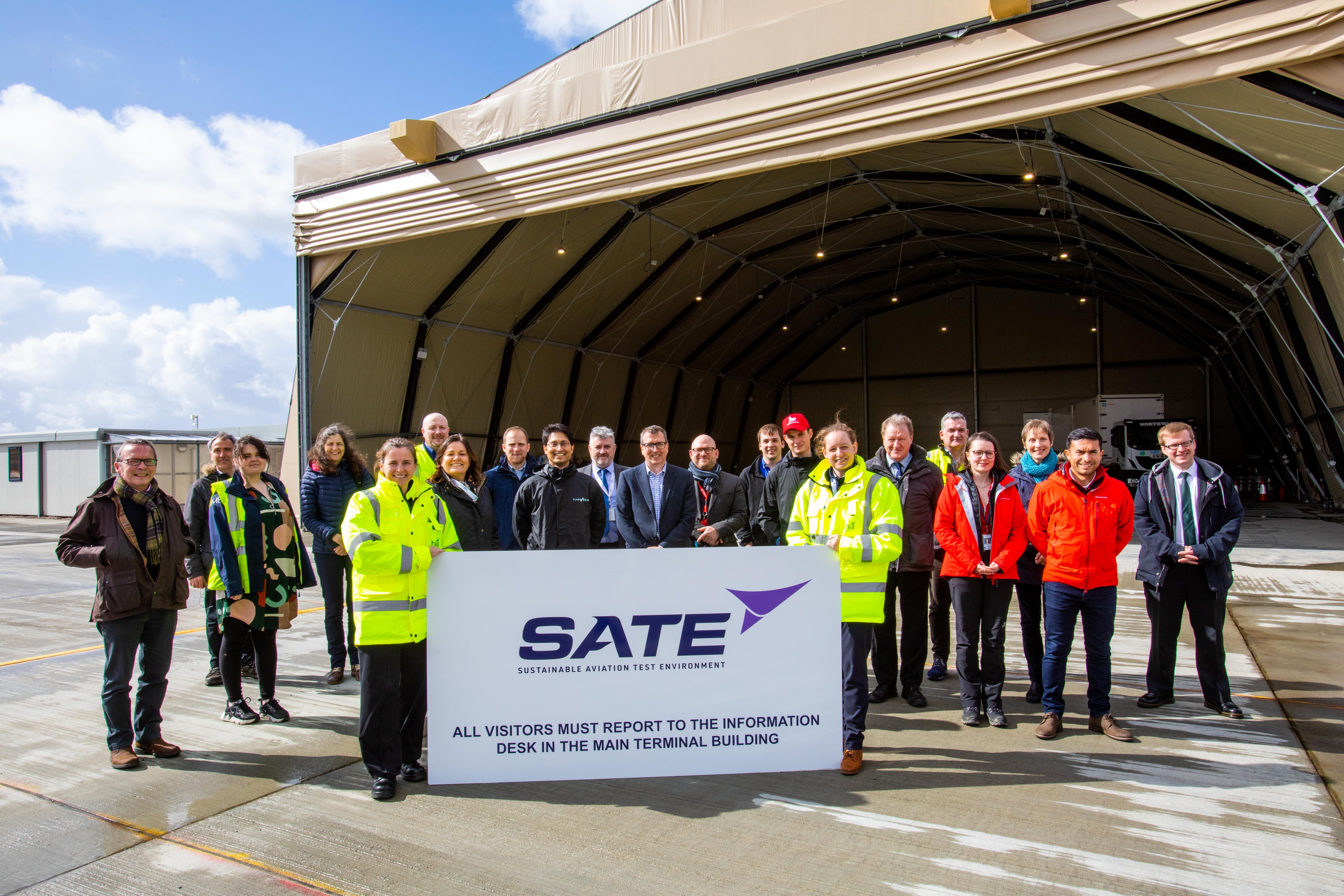 Funding confirmed for Phase 2 of SATE project
Today (18 July), the Sustainable Aviation Test Environment (SATE) project has taken a further step towards the Highlands and Islands becoming a sustainable aviation region.
UK Research and Innovation (UKRI) has confirmed that the SATE project has secured the funding as part of their latest phase of the Future Flight Challenge competition. The funding, which is awarded to innovation projects demonstrating integrated aviation systems and novel air vehicles, will support the project's ambition to scale up and become the UK Centre of Excellence for Sustainable Regional Aviation.
The SATE project, which is led by Highlands and Islands Airports Ltd (HIAL), has received £8.9 million of funding, which will cover 67% of the overall costs for the next stage of SATE's development.
The funding will allow for the SATE project, based at Kirkwall Airport, in the Orkney Islands, to build on the success of Phase 1, which created the UK's first low-carbon aviation test centre embedded at a commercial airport.
SATE was launched in November 2020 and during the last 21 months the project has seen some pioneering sustainable aviation technology demonstration flights delivered, including: a successful collaboration between drone specialist technology firm Windracers with Royal Mail on autonomous flights; demonstrations of Flare Bright's parcel-sized gliding drone system; and the first hybrid electric flights for Scotland pioneered by Ampaire. This activity showcased the project on a global stage. Dedicated hangar facilities and office space have also been created at Kirkwall Airport.
While Phase 1 established the test centre, Phase 2 aims to allow SATE to expand on the success that has already been delivered and further develop a UK Centre of Excellence for Sustainable Regional Aviation. The project will allow technology partners to test in a real-world environment, taking them closer towards being able to offer sustainable innovation options for commercial use.
The project matches the new technology with practical use cases in the Highlands and Islands as part of Phase 2 these will include:
Scheduled airline routes
Offshore energy services
National Health Service activities
Island / remote region deliveries
Environmental survey and inspection
Project highlights will include the establishment of a UAV hub-and-spoke delivery network, a first hydrogen-propelled regional-aircraft flight and a drone demonstration flight from Scotland to Norway.
As an exemplar early-adopter of other low-carbon technologies, Orkney is seen an ideal 'living laboratory' for testing aviation and aerospace technology. Kirkwall Airport is well suited as a test environment location due to the variety of short routes it offers acting as a hub connecting Orkney's Island communities through its inter-island flight service. While the SATE facilities are based at Kirkwall Airport, Phase 2 involves plans to work with other Highlands and Islands communities.
HIAL chair Lorna Jack, said: "Phase 2 of the SATE project will allow all the partners to really drive forward a range of low-carbon services and technologies that will have a tangible benefit to communities in the Highlands and Islands and beyond. Our partners are genuinely innovative pioneers committed to adapting to rapidly changing environmental challenges.
"SATE also plays a key role in delivering HIAL's environmental objective to decarbonise our operations and our long-term vision to become a net-zero carbon regional airport group.
"We continue with our aim for all 11 of our airports to be carbon neutral as we strive to deliver an environmentally sustainable future for aviation services."
Gary Cutts, Future Flight Challenge Director at UKRI, said: "The world is on a journey towards net zero and it is vital that the aviation industry is not left behind. In Phase 2 of the Future Flight challenge, we have supported the - project SATE consortium in creating the UK's first low-carbon aviation test centre. Now, with this extra funding, we look forward to seeing how SATE 2 develops into a UK centre of excellence for sustainable aviation systems."
SATE brings together an international consortium of 12 partners, from industry, public sector academia. The partners are; HIAL, Arcadis Consulting Limited, Connected Places Catapult, The European Marine Energy Centre (EMEC), Flare Bright Ltd, The Highlands and Islands Transport Partnership, Loganair Limited, University of Highlands and Islands (UHI), Windracers Limited. Zeroavia Limited; Highlands & Islands Enterprise (HIE); and Orkney Islands Council. The project is also working closely with other local authority agencies.
The Consortium will continue to look at how to implement zero-carbon airport infrastructure using green energy sources. The project has the potential to create exciting inward investment opportunities, which will require the skills and training needed to support them generating a positive socio-economic impact for the Highlands and Islands.