Consortium Members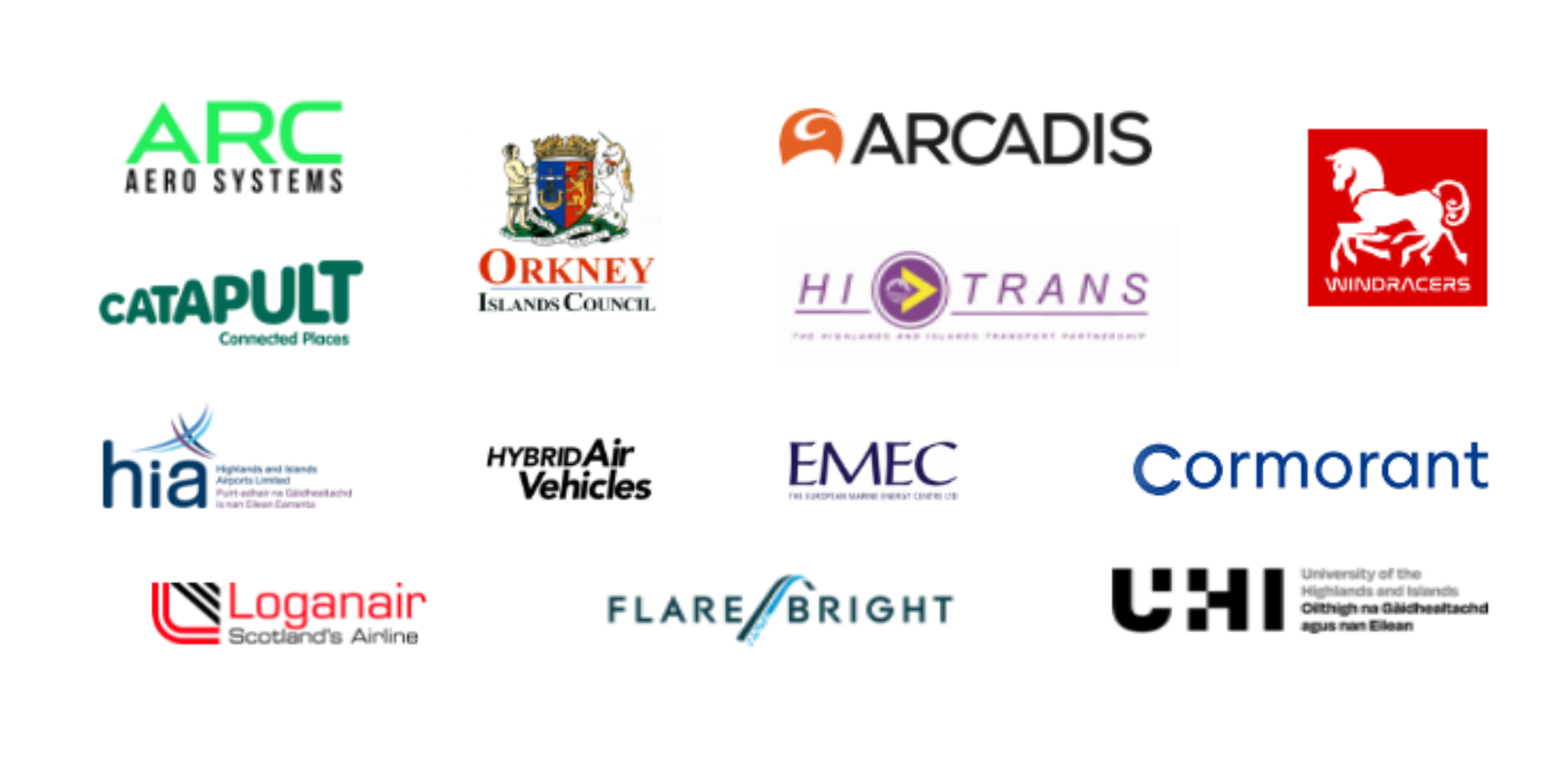 Highlands and Islands Airports Limited (HIAL) - HIAL manages and operates 11 regional airports in Scotland. Acting as regional travel hubs for their communities. The airports connect communities to the UK and International destinations.
UK Research and Innovation (UKRI) - UKRI is the largest public funder of research and innovation in the UK. It is composed of seven disciplinary research councils, Innovate UK, and Research England.
Arcadis - Arcadis delivers design, engineering, and consultancy solutions. It employs over 36,000 people, in over 70 countries.
ARC Aerosystems Limited (ARC) - ARC specialises in electric vertical take-off and landing technology. Its core business is the design and integration of aircraft. ARC is a member the Future Flight Challenge programme.
Connected Places Catapult - Connected Places Catapult is the UK's innovation space for cities, transport, and place leadership. Helping progress the way people live, work and travel. Driving growth and helping reduce carbon emissions.
Cormorant SEAplanes Ltd - An 8-seat, amphibious plane, Cormorant is to be a flexible and adaptable solution. Looking to contribute to the greening of air transport. Particularly for those in remoter areas. Sustainability is not only about zero-emissions. Materials used and the supply chain are also key considerations.
European Marine Energy Centre (EMEC) - EMEC is the world's first facility for demonstrating and testing wave and tidal energy. The centre is also involved in research areas including green hydrogen, offshore wind and energy systems. Helping to reduce the time, cost and risk of testing innovative clean energy technologies.
Flare Bright - Flare Bright is a drone software company. Flare Bright models different types of unmanned aircraft and uses machine learning to solve:
Sensing, navigation, control and optimisation problems.
Flare Bright is a partner on two different Future Flight Phase 3 projects and aims to drive a safer, more sustainable future air mobility sector.
Highlands and Islands Transport Partnership (HITRANS) - HITRANS is the regional transport partnership in the Highlands and Islands. It aims to improve transport services and infrastructure in the north of Scotland and on routes to the Highlands and Islands. 
Hybrid Air Vehicles Ltd - Hybrid Air Vehicles is the company behind Airlander technology. Its vision is to be the future of zero-emissions aviation. The production standard aircraft is expected to be in flight from 2026 and in service by 2027.
Loganair - Loganair operates 42 aircraft on a network of over 80 routes. It serves more UK airports than every other airline combined. Its employs 800 staff and supports over 170 local jobs in the Highlands & Islands.
Orkney Islands Council - Orkney Islands Council is the smallest local authority in Scotland. Orkney Islands Council has an impact on many aspects of everyday life. With around 1,800 staff, they are also the county's biggest employer.
University of the Highlands and Islands (UHI) - UHI is a tertiary partnership serving our communities and connected to their needs. It offers flexible and supported learning from access level to PhD, as well as research opportunities.
Windracers - Windracers' designs and builds the next generation of cargo drones. Providing an efficient delivery service for essential items. Getting items to people and communities when and where they are needed.