Security and Check-in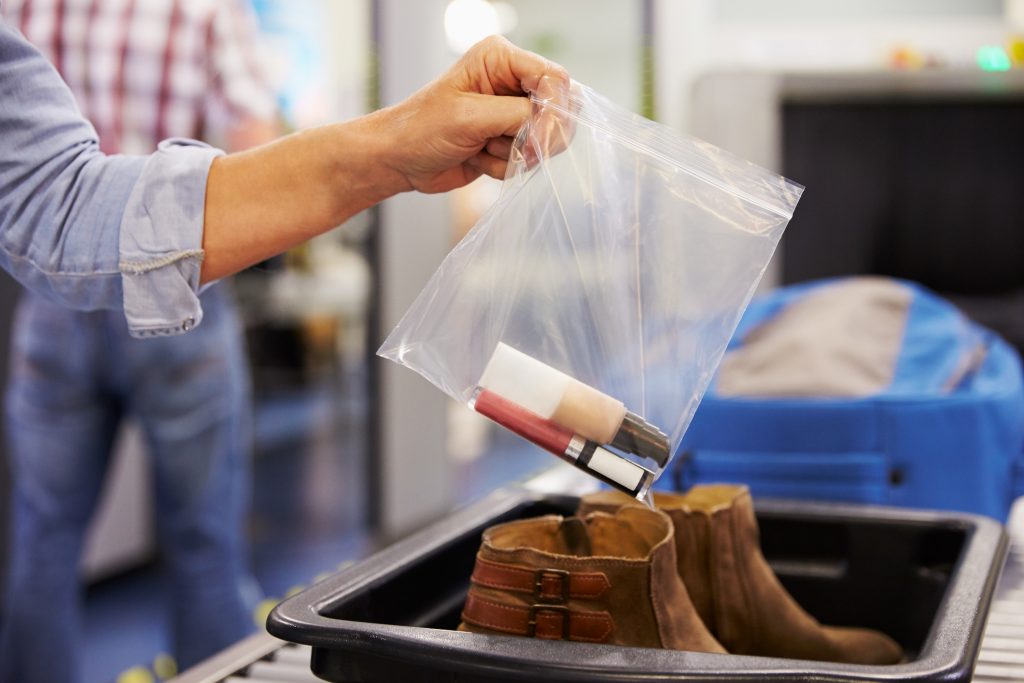 Security checks are just one of the ways we help to keep you safe during your flight. An overview is provided below but as requirements can change, please also check with your airline before flying.
Hand Luggage (taken onto the aircraft by passengers)
Pack only valuables and items you will need during the journey in your hand baggage. The Department for Transport has set the maximum size for an item of hand baggage as 56cm x 45cm x 25cm, including wheels, handles and external pockets. However, some airlines may only allow smaller bags, so check with them first.
Liquids, gels or pastes
If you are carrying any liquids, gels or pastes in your hand luggage, the following restrictions apply:
The liquid must be in a container with a maximum volume of 100ml
Containers must be carried in a single, transparent, re-sealable plastic bag, which holds no more than a litre and measures approximately 20cm x 20cm
The bag must not be knotted or tied at the top
Each passenger can carry only one of these bags
Liquid medicines, baby milk and liquids for special dietary requirements in containers greater than 100ml, but considered necessary for the trip, can be placed in hand luggage but will be subject to a separate verification process
Please note, you are permitted to carry liquids, gels or pastes, in containers of more than 100ml capacity in your hold baggage
Electrical items
You are permitted to take electrical items (such as laptops, tablets and hair dryers) in your hand baggage but they will need to be removed and screened separately.
Medical equipment
You are allowed to bring medical equipment if it is essential for your journey. The equipment will be screened separately and must be accompanied by supporting documentation from a qualified medical professional, such as a letter from your doctor.
Other items
If you are carrying gifts in your hand luggage please do not wrap them.
If you carry a lighter you must keep it on your person during the flight, in a resealable, transparent plastic bag.
Other items you intend to travel with
Pushchairs, walking aids and wheelchairs
These will be carried in the cargo hold, but you will be able to use them up to the aircraft steps, when they will be taken to put in the hold of the aircraft. These items will be returned to you at the aircraft steps when you arrive at your destination.
As pushchairs, walking aids and wheelchairs have to be x-ray screened and searched, we ask all passengers to allow additional time for these procedures to be carried out.
Oversized Items
Any item of hand baggage larger than 56cm x 45cm x 25cm will not be allowed in the aircraft cabin. It must be checked in as hold baggage, with the exception of musical instruments.
Musical Instruments
If you plan on travelling with a large musical instrument, you should check you're your airline before booking, as you may need to make special arrangements such as buying an extra seat. Any musical instrument you bring with you will need to be security screened separately.
Dangerous and restricted items
Please ensure you are aware of what you cannot take on board an aircraft.
Travel to the airport
For domestic flights, we would normally recommend arriving at the airport at least one hour before your flight departure time (at least two hours for international flights); however, given the additional measures in place due to COVID-19, please allow additional time to ensure you can pass through the airport in time for your departure.
Please ensure that you check in online and download/print your boarding pass before arrival where possible.
We cannot accept responsibility for any passengers that miss their flight because they did not allow sufficient time for the checking in and security processes.
What happens at security?
Please ensure you follow instructions from staff carefully, and have any relevant paperwork and valid passport/photographic ID with you.
All hand baggage will need to be screened and you will be asked to pass through a security archway.
You may also be asked if you have packed your own bags. You must never carry anything on the flight on behalf of someone else. If you think an item has been placed in your baggage without your knowledge, you must tell the check-in agent immediately.
Airport security staff will not let anything through that they consider dangerous.
Security staff will ask you for:
Re-sealable bag of liquids – it will be screened separately from your hand baggage
Laptop, hairdryer or other large electrical items (these will be screened separately)
Coat or jacket, belts and sometimes your footwear
Once you have passed through the security archway, you may be searched by a member of our staff. Searches may be carried out by hand or by using hand-held detectors (our staff will be wearing appropriate personal protective equipment).
General security at the terminal
Never leave baggage or personal belongings unattended in or around the terminal, as they will be removed and may be destroyed. Please be sure baggage checked in or taken with you on your flight belongs only to you.
Do not accept parcels or packages that belong to others (even friends), unless you can check the contents yourself. When asked questions about your baggage, you must answer carefully and clearly. In the UK, it is now an offence to give false answers to such questions. Even the most casual remarks may be treated as a real threat and will brought to the attention of the police.
Please ensure you follow instructions from staff carefully, and have any relevant paperwork and valid passport/photographic ID with you at all times.
Passengers with Reduced Mobility
All passengers must pass through a security check before reaching the departure lounge.
In order to make the transit through the airport as comfortable as possible for persons with reduced mobility, searches may be carried out by hand or by using hand-held detectors (our staff will be wearing appropriate personal protective equipment). If required, a private search area away from the main area can be provided.