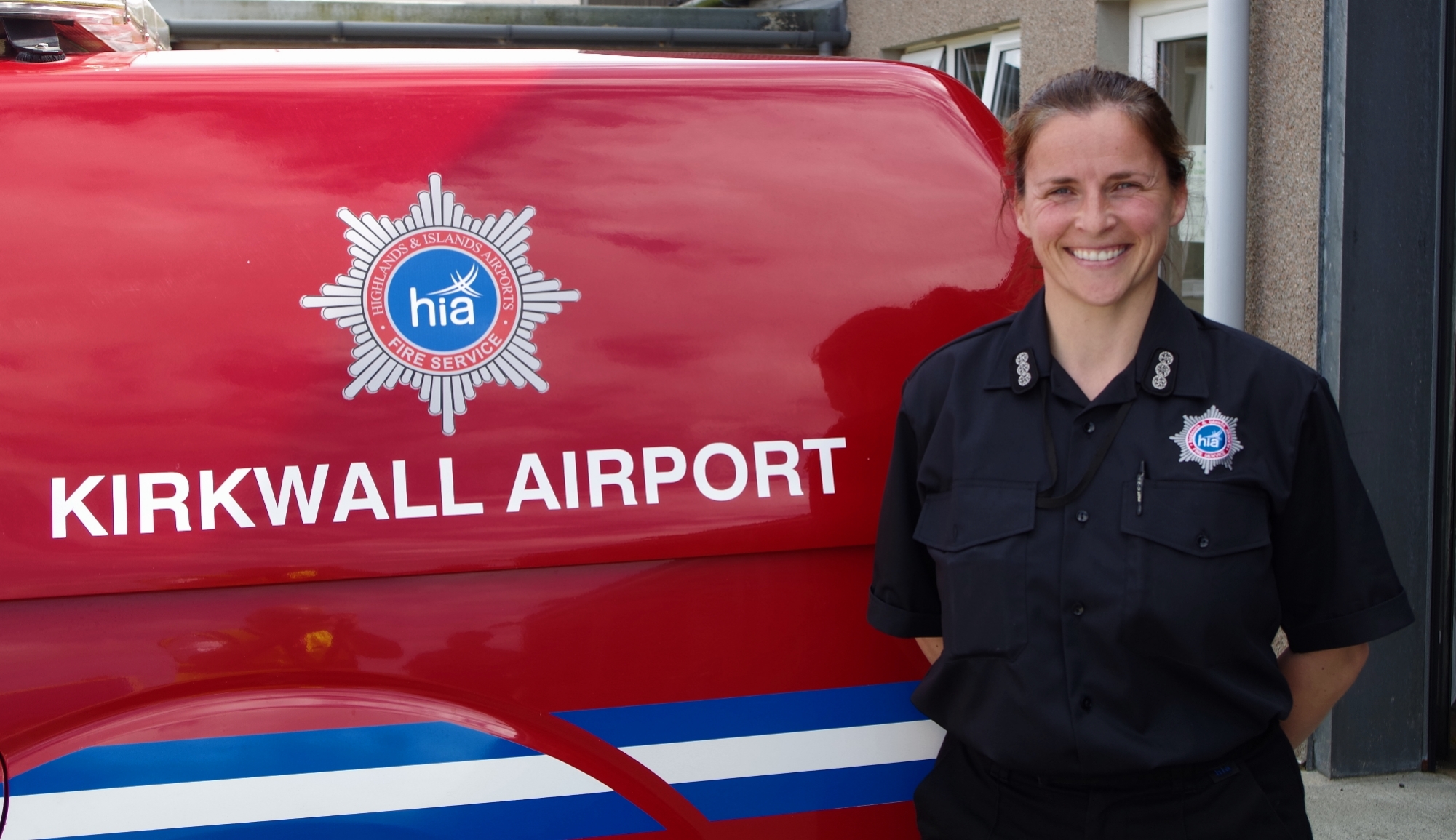 Highlands and Islands Airports Limited has appointed Margaret MacRae as its new Airport Fire and Operations Manager at Kirkwall airport in Orkney.
Originally from Benbecula, Margaret (known as Mags) has worked at Kirkwall for 18 years.
At Kirkwall, Mags is responsible for a crew of 21 from the Airport Fire Service and three colleagues from the Mechanical Transport Department.
The Airport Fire & Operations Manager's main responsibility is the compliance of the service and ensuring the regulator, Civil Aviation Authority (CAA), is satisfied that everything is running as it should be.
The Fire Service at the airport is complex and dynamic - from winter operations to water beach rescues the team are ready to respond to it all. Working as part of the Airport Fire Service also offers the chance to get involved with the future of aviation and to give back to the community of Orkney.
Mags MacRae said: "There are so many exciting things happening at the airport including the Sustainable Aviation Test Environment (SATE) project, which will create the UK's first operationally based, low carbon aviation test centre.
"We are also very proud of the Training Facility we have here in Kirkwall. We offer fire prevention and fire fighting courses, which are a mandatory minimum requirement for all seafarers. With HIAL providing these courses, it means locals no longer need to go off island to gain the valuable qualifications. The marine courses have been offered for several years and it's an element of the day-to-day job that has become the norm and the programme is going from strength to strength.
"Everyone that I have worked with at HIAL has encouraged and supported my development. I'm especially thankful to the team at Kirkwall as they have taught me so much over the years and I still continue to watch, listen and learn from them."
George Farquhar, Director of Airport Operations said: "I've worked with Mags since she joined HIAL and it's been such a positive experience to see her progress her career in the organisation. The knowledge and understanding that Mags has gained of the HIAL network will be invaluable to her in her new role at Kirkwall.
"At HIAL we work collaboratively across the organisation, and it's great to see colleagues like Mags take every opportunity to progress and develop."
Photograph by Neil Thain.