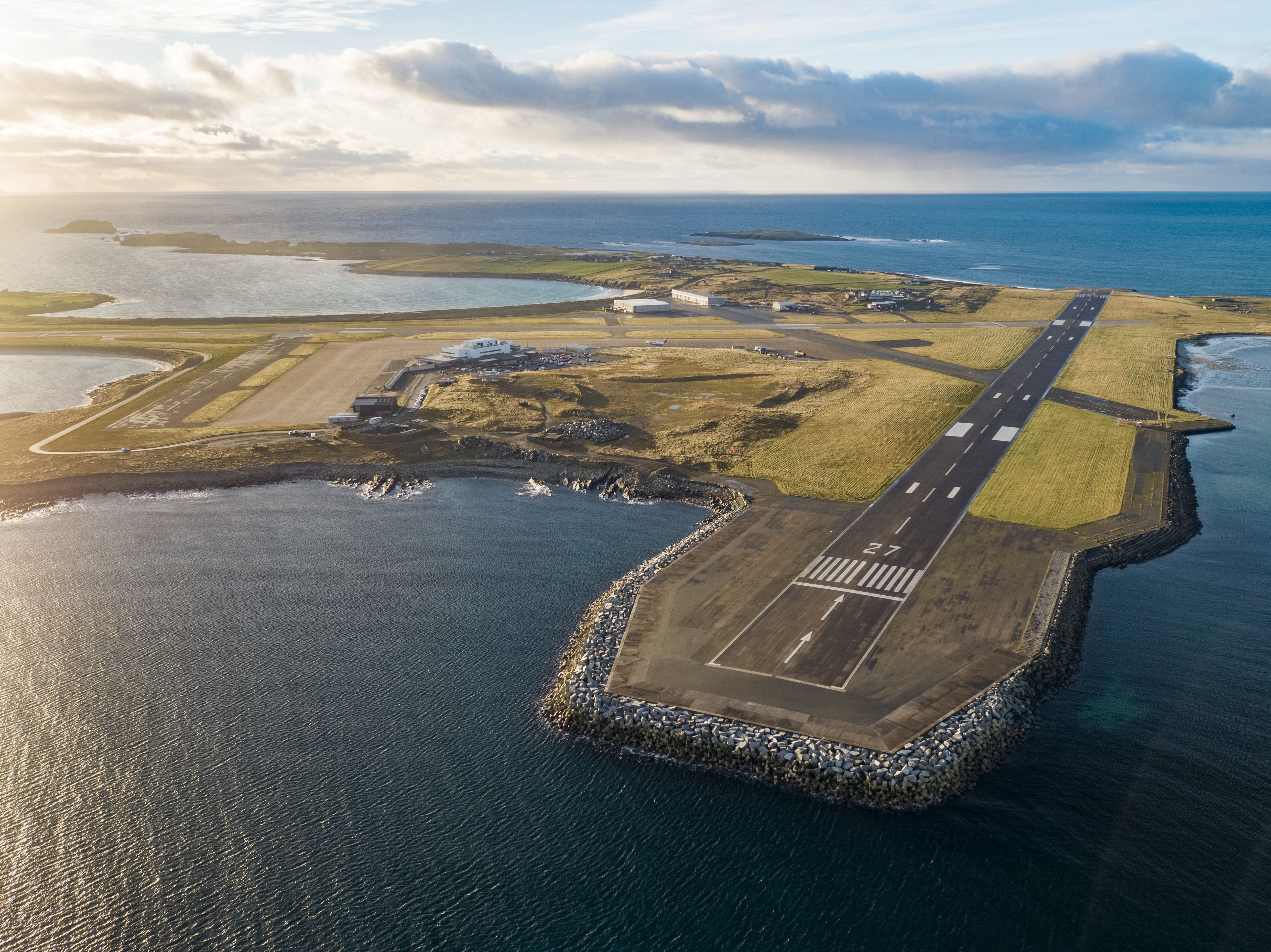 Family history research and a DNA test brought 81-year-old Elizabeth Cheyne's attention to the webcams at Sumburgh Airport. Resulting in creative solace during lockdown.
Elizabeth Cheyne lives in the centre of Whitby, Yorkshire, near to the famous Whitby Abbey, and over 370 miles from Sumburgh Airport as the crow flies.
Like many other elderly people in the UK, Elizabeth was confined to her home during lockdown searching for things to help keep her mind active.
Elizabeth said: "I have been studying my family tree for many years and did an ancestry DNA test. The results showed that although more recent generations of my family had lived in central London, they had moved there via Edinburgh from Shetland. I was captivated"
Needing to know more about Shetland, Elizabeth continued her research online and found the Shetland Webcam website. This discovery meant she could begin to digitally explore Shetland from her own home in Whitby. It was from the comfort of her own home that she came across runways 09/27 and 15/33 at Sumburgh Airport.
Elizabeth was immediately interested, saying: "I was absolutely fascinated by the aircraft that fly from Dyce Airport to Sumburgh every morning without fail through all weathers.
"I found myself learning more and more by watching the daily arrivals of these early morning planes, tracking all their variants in a diary. They were now part of my essential daily routine, and thanks to the webcams I was able to greet them with a good morning from Whitby. This has been my daily routine from 7am to 8am every day. It has saved my sanity and helped me keep focused throughout this very long and theatrical interval"
Elizabeth contacted Highlands and Islands Airports (HIAL) to offer her thanks to every pilot, cabin crew, fire service and staff member involved in keeping the airport open during the pandemic. She shared a poem she had created, dedicated to all the team members involved in those daily flights.
Andrew Farquhar, General Manager at Sumburgh Airport, reached out to thank Elizabeth following the thoughtful compliment and shared the message throughout HIAL.
Andrew said "It was such a pleasure to receive Elizabeth's email and poem. This has been such a challenging year for everyone, it was lovely to hear that the dedication of our staff in keeping the airport open had such a positive impact for someone so far away during lockdown. The team at Sumburgh Airport and our airline partners, provide an essential service and are there no matter what the world throws their way to provide for our passengers and keep our communities connected.
"I'd like to thank Elizabeth for taking the time to get in touch with us and write this wonderful poem, it has brought a smile to a lot of faces within HIAL."
Poem by Elizabeth Cheyne
We watch
We wait.
A bright white light
Creates a shadow
They creep together over the sea
And land in perfect harmony.
The tide is now high.
The snowfall swept.
Hush! In the silence
An EZE jet.
We wait
we watch
The cloud patterns change
Safety car scurries to its place
The tension is high
A plane lands from the sky
Turns on a sixpence.
A big white bird with a tartan tail.
Then another Saab.. Another tale
We watch
We wait
We hold our breath
Darth Vader races from his resting place
Expectation is high
As the plane trundles by
We're counting the seconds
Until they're home and dry
Proud of them all
A tear in the eye
Or runway Number 9