Assistance and Accessibility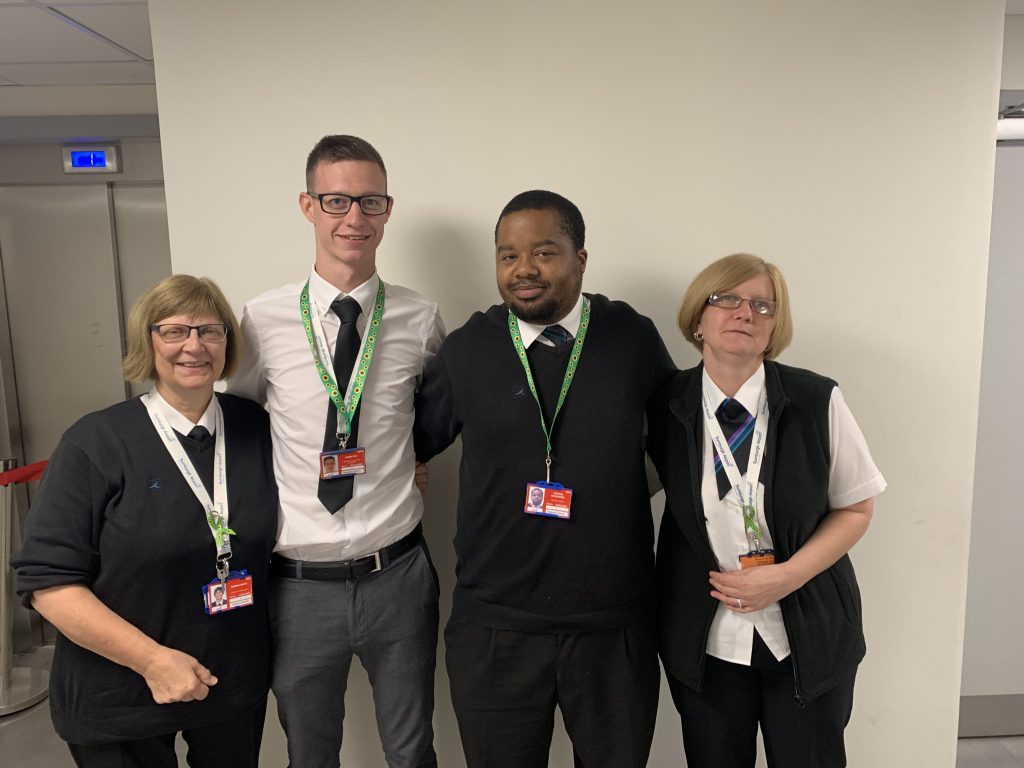 Our additional assistance services are still available for passengers at Sumburgh Airport.
If you have an impairment or mobility difficulties, you may require additional assistance at the airport. If you require assistance, please make arrangements prior to arrival through your airline. Loganair can be contacted on 0344 8002855 or by emailing bookings@loganair.co.uk. Please see our Information for Passengers with Reduced Mobility guide by clicking on the link below.
Sumburgh Airport - Information for Passengers with Reduced Mobility
---
Assistance provided at the airport
HIAL actively engage with NHS Shetland to produce a patient charter and a patient passport (information for travel including hidden disabilities). Front line staff from HIAL and Loganair have received training on supporting our passengers with additional requirements (including hidden disabilities). We also engage with Loganair to provide a streamlined seamless journey through our airport and onto the aircraft.
Sumburgh Airport is pleased to offer the following range of services for passengers with reduced mobility:
Meet and Greet – Sumburgh Airport operates a meet and greet service through prior arrangement with the airline
Wheelchairs – available at the airport for use from your car to the aircraft and vice versa
Ambulift – this is provided for safe and dignified transport assistance from the terminal to the aircraft for embarkation and disembarkation
Assistance – staff will provide assistance throughout the airport process throughout check-in and security checks until boarding the aircraft
Accessible parking – provided in the car parks
Accessible toilets – provided both prior to and after the security search area and with hidden disabilities signage
Engagement with Crohns and Colitis groups to help those affected when travelling
Many of our PRM passengers are destined for Aberdeen, therefore Sumburgh Airport also liaises with the NHS discharge nurse assigned to Aberdeen Airport.
---
How to obtain assistance
If you require assistance please make arrangements a minimum of 48 hours prior to travel through your airline. Contact details are provided below or at www.loganair.co.uk Please contact your airline directly to arrange assistance.
Loganair
---
Accessibility User Group
Sumburgh Airport has implemented an Accessibility User Group which meets twice a year. The purpose of this group is to:
Represent the interests of all users who require additional support at the terminal and to provide information on the services available
Act as a constructive and supportive body to seek and give feedback on the quality of service being provided to users
Provide a forum for the airport management team to test ideas for service amendment and improvement
Explore training options for Airport staff to assist in the understanding of additional needs
Bring issues of concern or potential risk to the attention of management.
Membership of this group comprises of:

Airport Manager, Airport Services Manager & Terminal Operations Manager
Loganair Customer Service Manager

Representatives from:

NHS Patient Travel Manager
Disability Shetland
Shetland Carers
Dementia Scotland
Shetland Community Connections
SANDs
Independent wheelchair users
Independent users with visual impairments.
---
Airport Security
If you require assistance, it is important to advise your travel agent or airline when booking your flight. This will ensure minimum waiting time on arrival at the airport.
All passengers must pass through a security check before reaching the departure lounge. In order to make the transit through the airport as comfortable as possible for persons with reduced mobility, searches may be carried out by hand or by using hand-held detectors. If required, a private search area away from the main area can be provided.
You are permitted to bring medical equipment if it is essential for your journey. The equipment will be screened separately and must be accompanied by supporting documentation from a qualified medical professional such as a letter from your doctor. Walking aids and wheelchairs must be x-ray screened and searched and we ask passengers to be patient whilst these additional security measures are in place and to cooperate with all airport security staff. These items will be carried in the cargo hold but you will be able to use them up to the aircraft steps when they will be taken to put in the hold of the aircraft. These items will be returned to you at the aircraft steps when you arrive at your destination.
---
Mobility Equipment
If you require assistance please make arrangements with your airline prior to arrival at the airport.
Any electric mobility aids should be prepared for carriage in accordance with the manufacturers and airline guidelines. Generally this entails switching the ignition off with the key. Some electric mobility aids have a circuit breaker which can be switched off while a few require the battery to be disconnected from the wiring harness.
There are two types of batteries:
Wet-cell batteries: these are generally not allowed on board flights
Dry-cell batteries (including lithium batteries)
For chairs with dry-cell or lithium batteries:
the battery can remain attached to the wheelchair provided that it is secure;
the terminals do not need to be disconnected if they are already inside a cell case or isolated (to avoid any short circuits);
the motor must be disengaged.
Upon arrival at your destination, it is the responsibility of the airline to return your mobility aid to you in the same condition as you left it. Your mobility aid will be returned to you at the earliest possible point, generally as soon as you have disembarked the aircraft. Assistance for boarding and disembarking will be similar.
In the unlikely event that on arrival of your flight you find that your mobility equipment is damaged or lost, we will arrange and pay for local providers to supply temporary replacement equipment (albeit not necessarily on a like for like basis) or if possible, by temporarily lending you our equipment. However, liability for the damage (repairing and replacing the equipment) lies with the airline.
---
Ramble Tags
We are delighted to announce that through our partnership with Ability Shetland, Ramble Tags are now available at Sumburgh Airport. Ramble Tags provide special guidance assistance to visually impaired passengers whilst at the airport.
The Ramble Tag is a lightweight arm harness worn by a guide on their upper arm, offering a comfortable handle as an alternative to linking arms - reducing any need for physical contact.
Ramble Tags are available from the Special Assistance desk (desk 8) in the main concourse.
---
Information for Passengers with Hidden Disabilities
We are aware that for some people with hidden disabilities travelling through the airport can be a stressful experience. At Sumburgh we have introduced the "Sunflower" lanyard scheme. If you see any of our staff wearing a green sunflower lanyard or ribbon then they have been trained to assist individuals with hidden disabilities so please do not hesitate to ask them for support.
If you have additional needs or hidden disabilities and would like to wear a lanyard or ribbon please contact the Airport Services Manager by emailing smail@hial.co.uk who will then contact you to discuss your requirements and see how we can support you on your journey.
We are limited in the assistance we can provide in terms of medical treatment and equipment and for intimate personal care and therefore we would request if you require this type of support that you travel with an escort. Sumburgh Airport is at present looking at the possibility of installing a Changing Places toilet facility in the main concourse.