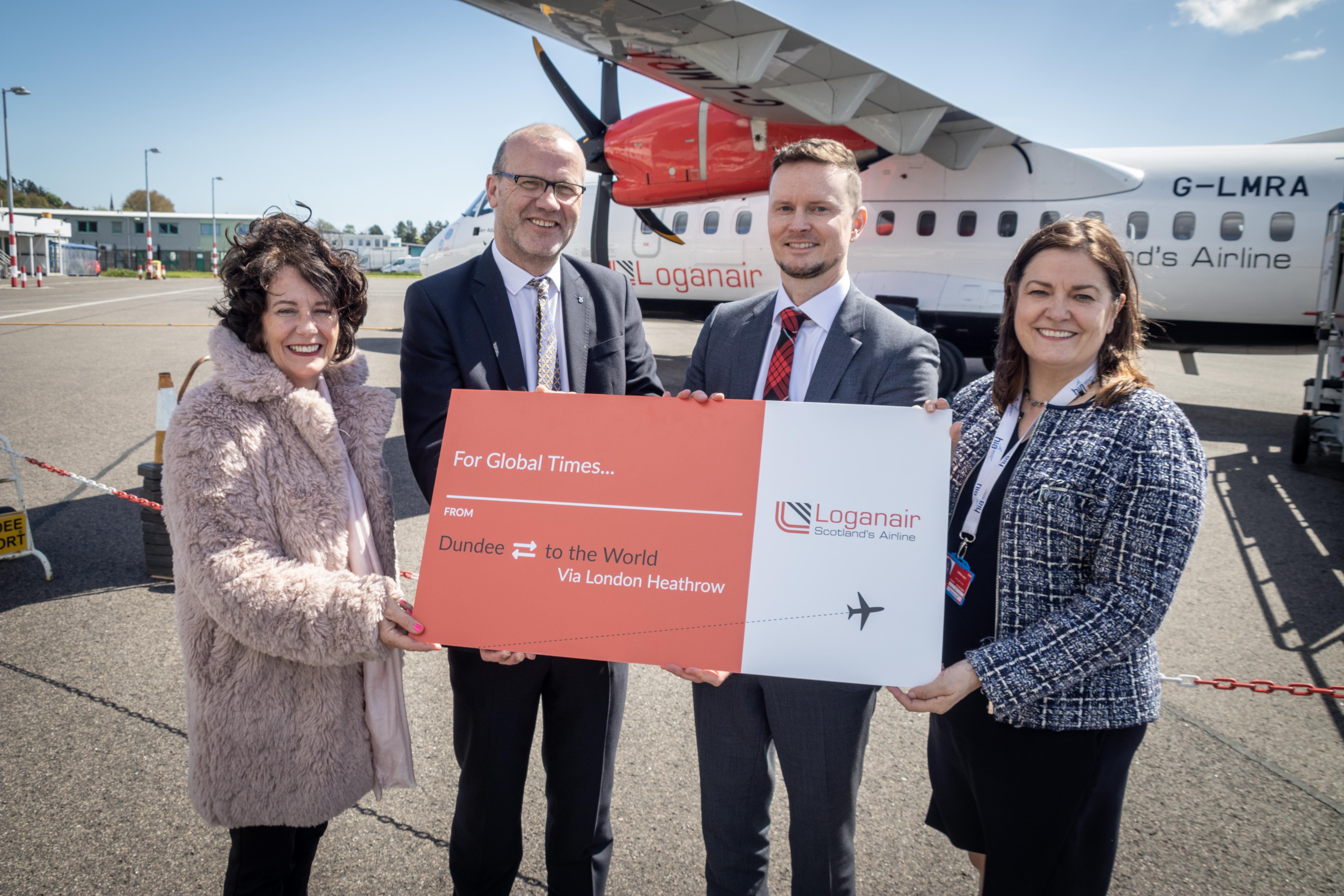 Dundee's air connections soared to new heights this week with the launch of new routes to Heathrow.
The City of Discovery's link with the UK capital's bustling aviation hub has been restored for the first time in 40 years, bringing game-changing opportunities for inward investment, tourism and onward travel.
The historic milestone was marked at a special event at Dundee Airport as Loganair's new Heathrow to Shetland via Dundee service was greeted by members of Dundee City Council as the inaugural arrival touched down just after 11am.
As announced in April, Loganair is now offering connections to London Heathrow from Dundee, Orkney and Shetland.
The changes have connected Kirkwall and Sumburgh to Heathrow for the first time and restored an air link from Heathrow to Dundee last offered a generation ago.
The change from London City on the Shetland and Orkney via Dundee route means Dundee customers will now be able to book connections to and from Dundee via London Heathrow to 97 destinations in 45 countries, with today's Shetland-bound arrival underlining the UK regional connectivity being offered via the airline.
Lorna Jack, Chair of Highlands and Islands Airports Limited [HIAL) and Dundee Airport Limited [DAL) Board said "It has been great to be able to join the team at Dundee today, as they welcomed the first flight connecting our airport at Sumburgh with London Heathrow, alongside representatives from Dundee City Council and Loganair. This follows on from the first flight to Kirkwall Airport earlier this week. This a positive step in terms of air travel to and from Dundee, Kirkwall and Sumburgh opening a world of onward connectivity opportunities from Heathrow for these communities.
"We are delighted to support the service and expect the new links will deliver significant benefits for the three regions."
Loganair Chief Commercial Officer, Luke Lovegrove, said: "Dundee is now plugged in to Heathrow's connections with the rest of the world thanks to these new routes, offering incredible opportunities for travel, tourism and inward investment into the City and wider Tayside region.
"For the first time in a generation, Dundonians will have the option to use their local airport to fly worldwide or take the short journey to explore Shetland – one of the most remote and unique communities in the UK.
"These routes really take Loganair's provision of regional connectivity to new heights and it was wonderful to celebrate the moment in a city which means so much to this airline."
Mark Flynn convener of Dundee City Council's city development committee said: "The London Heathrow service is predicted to provide economic and social benefits to Dundee and the wider city-region, through access to a global hub without the need for passengers to travel to another Scottish airport.
"At the same time, the connectivity to London itself is quick and straightforward and the route is a great way to get to the UK capital for business or leisure travellers coming from Dundee."
Liz Henderson, Director of Membership and Events at London Chamber of Commerce said: "Sustainable aviation is vital for British business to grow jobs and the economy across the United Kingdom and overseas. Loganair's new Heathrow routes achieve that by boosting connectivity across key regions in the UK, ranging from traditional business and tourism centres to some of the country's most remote destinations."
Pictured Left to Right: Liz Henderson, Director of Membership and Events at London Chamber of Commerce, Mark Flynn convener of Dundee City Council's city development committee, Loganair Chief Commercial Officer, Luke Lovegrove, Lorna Jack, Chair of Dundee Airport Limited (DAL) Board