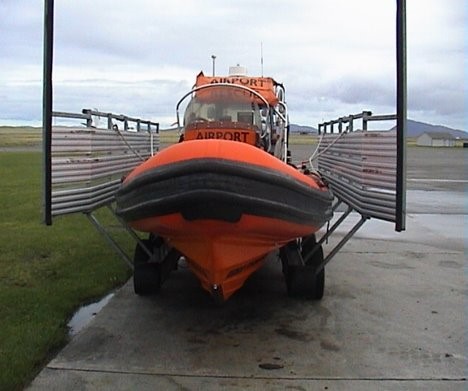 Lochboisdale Harbour is on the crest of a wave after receiving a rescue craft from staff at Benbecula Airport.
The rigid inflatable boat (RIB), was donated to Benbecula Community Council by Highlands and Islands Airports Limited (HIAL), which operates Benbecula Airport, after the craft was withdrawn from front-line service.
Lochboisdale Harbour is owned and operated by Lochboisdale Development Limited (LDL), in South Uist, the Outer Hebrides. The harbour provides regionally strategic, world class facilities for the growing tourist industry, their fishing fleet and aquaculture industry.
Benbecula Airport manager Roddy Mackay said: "The craft was gifted to the Benbecula Community Council who were able to liaise with other island community groups to see who could benefit from an addition to their fleet.
"Lochboisdale Harbour expressed their interest in the craft and subsequently purchased it from the community council. We are delighted the craft is staying locally and will be used by local people whilst the funds from the sale will be used to benefit the community in other ways."
Lochboisdale Harbour Port Manager, Donald Currie said: "On behalf of Lochboisdale Harbour, I would like to thank HIAL and staff at Benbecula Airport for donating the craft to the local Community Council.
"Lochboisdale Harbour made a sizeable donation to Benbecula Community Council in return for the vessel with the funds going back into our local communities.
"Whilst the vessel will be stationed at the harbour, it will serve as a safety vessel for the wider Uist community."
Benebcula Community Council Chair, Rona MacKay said: "Benbecula Community Council would like to thank HIAL for the donation of the safety craft. We are extremely happy that it will still provide a much-needed service to the Uist community.
"We plan to liaise with all of the Uist community councils to decide what the monies raised from the sale of the donated craft will be put towards."