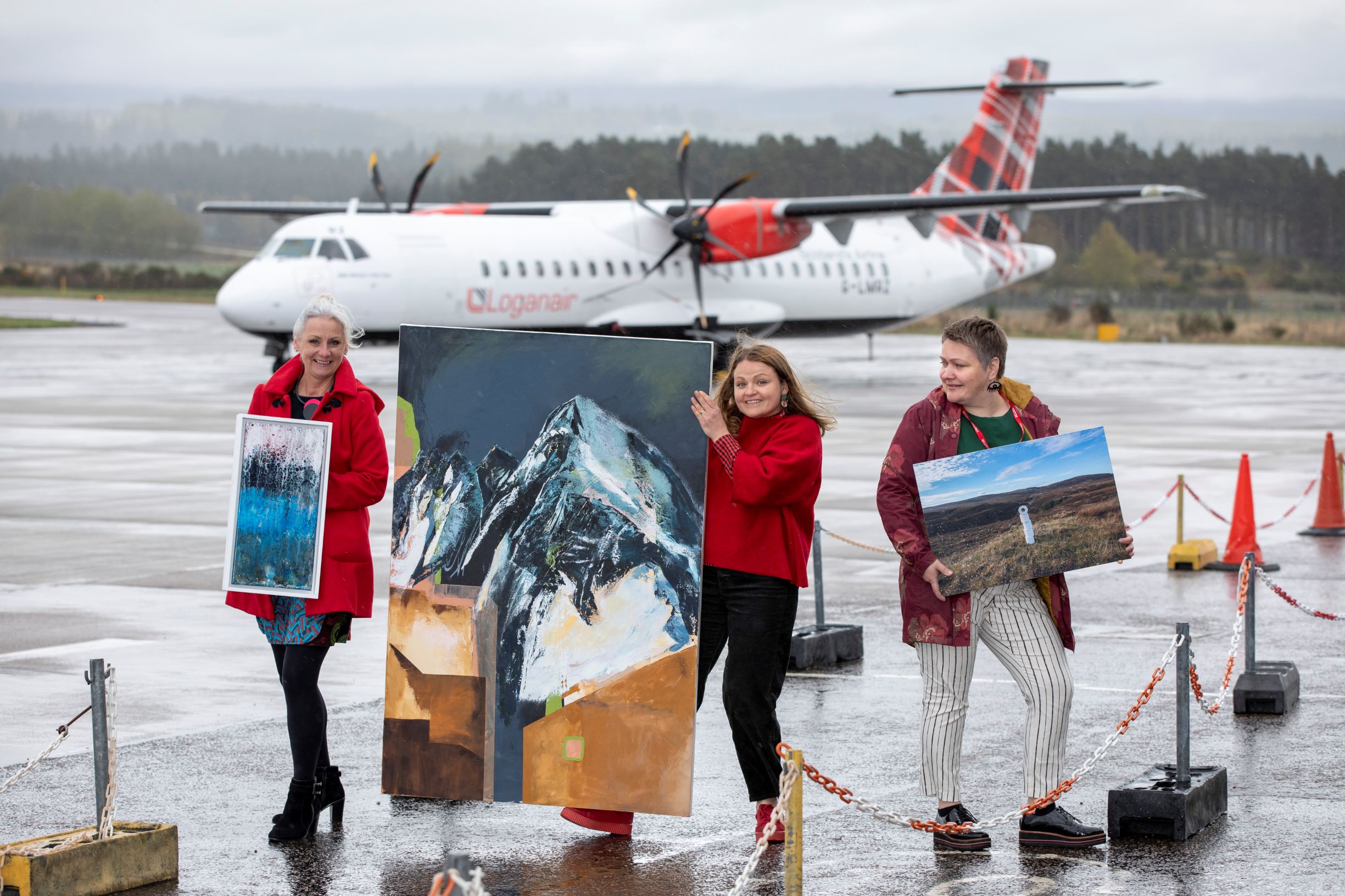 University of the Highlands and Islands graduates are to feature in an art exhibition hosted at Inverness Airport, welcoming visitors to the region when travel resumes.
The new exhibition, Highland Creatives opens with works by Inverness College UHI alumni Yelena Visemirska, Louise Innes and Evija Laivina, current practitioners at Wasps' Inverness Creative Academy, the first creative hub for the area.
The launch of Highland Creatives is in preparation for the reopening of national and international travel, expected later this year, while providing an opportunity for local emerging artists to showcase their work in a public space. The art will also be available to buy directly from the creators.
Speaking about the exhibition Audrey Carlin, Chief Executive Officer at Wasps Studios, said:
"Over the past year opportunities for artists to physically exhibit their works have been vastly reduced. This partnership with the University of the Highlands and Islands and Inverness Airport mirrors the hope we have of a return to a less restrictive time, and we take this initiative partly as a way to welcome new, occasional and frequent visitors to the Highlands, but also a thankful expression of being able to enjoy art in person once more.
"Later this year Wasps will complete the final phase of the development of its Inverness Creative Academy project, which will provide a substantial cultural resource for the region. We look forward to welcoming everyone to this flourishing and interconnected creative community."
Graeme Bell, Inverness Airport Manager added:
"I was delighted when the university and the creative team at Wasps approached us with their idea of installing an art exhibition in our terminal building. Having recently redesigned the building, it provides an eye-catching attraction which complements the space. We are only too pleased to be able to help local artists and the wider creative community during such challenging times.
"As travel restrictions ease, visitors can appreciate our region's unique culture and visual identity through the artwork being exhibited. And, of course, it can be enjoyed by the Inverness Airport team too."
Managed by Wasps, Inverness Creative Academy Phase 1 opened in November 2018. It is the first creative hub in the Highlands to provide a space for artists, makers and creative industries. Inverness College UHI has its own studio space within the academy to provide creative space and collaborative opportunities for the students.
Talking about this initiative Nicola Smith, Head of Careers and Employability at the University of the Highlands and Islands said:
"As we celebrate our tenth birthday, the university is especially proud of the many strong industry partnerships and supportive relationships we have built. We are delighted to be partnering with Wasps and Inverness Airport to give our hugely talented graduates the opportunity to display their work in this contemporary exhibition space.
"It has been a challenging time for those in the creative industries and this is just one example of how we are working hard to support our students and graduates to look to the future. All our alumni are graduates for life and the university is proud to work with industry partners to position our region as an attractive location to develop a sustainable creative career."

More graduates from the University of the Highland and Islands partnership will feature in the exhibition over the coming year. To find out more about the artists visit www.waspsstudios.org.uk.

You can listen to Audrey Carlin, Chief Executive Officer at Wasps Studios and creative artists Yelena Visemirska, Evija Laivina and Louise Innes talk more about the exhibition launch with Katie Masheter in the latest University of the Highlands FutureMe podcast episode at www.uhi.ac.uk/en/students/careers.