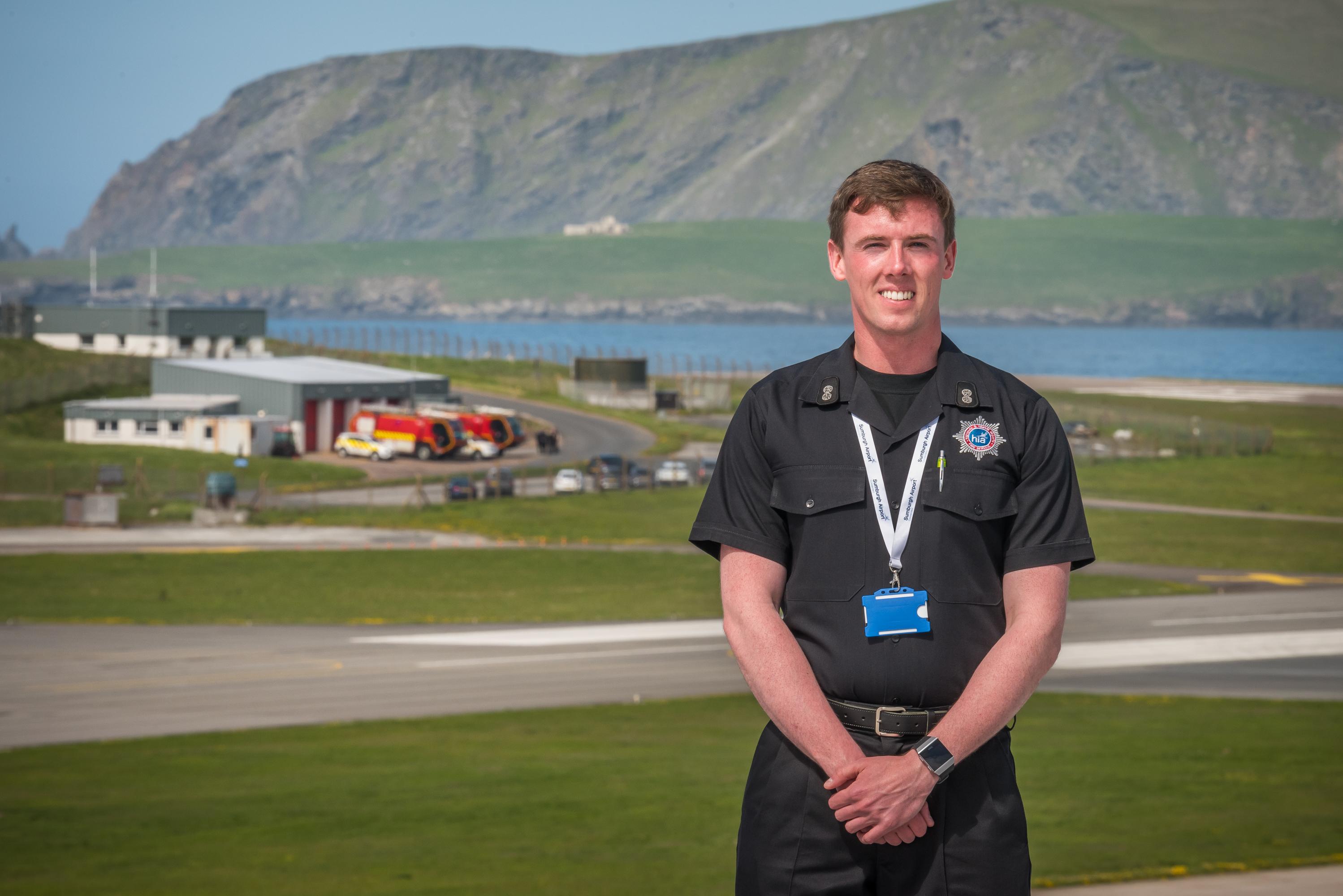 Highlands and Islands Airports Limited has appointed Jamie Conley as its new Airport Fire and Operations Manager at Sumburgh airport in Shetland.
Originally from Campbeltown, Jamie has been working in the fire service with HIAL since his original posting at Dundee Airport in 2014. Making the most of the opportunities that HIAL presented him, Jamie progressed through several positions before taking on the Sumburgh role.
Jamie Conley, said: "I have always been keen to progress within HIAL. The opportunities within the service are fantastic, and every airport within the HIAL group is so different in terms of what needs to be done on a day-to-day basis."
When the vacancy was advertised, Jamie jumped at the chance after getting a taste for living in Shetland during temporary deployment in 2015.
He added: "The Airport Fire and Operations Manager at Sumburgh is a wide-ranging role, mainly responsible for ensuring the airport fire service is compliant with all statutory and regulatory requirements as well as managing other operational activities including wildlife management, aircraft marshalling and airfield maintenance. There can be a lot to juggle but the team is key to keeping the airport running."
"HIAL is going through an exciting period just now. The recently published Strategy and Covid-19 Recovery Plan 2021-2026 has set out the organisation's mission, vision and values, including becoming a net-zero carbon regional airport group."
Andrea Sillars, Director of HR, said: "The knowledge and experience of the HIAL network that is gained as colleagues develop is invaluable in preparing them for more senior roles within the company.
"HIAL attracts a wide range of people from across our society for our many different roles. Seeing people like Jamie take every opportunity presented to them to gain experience in different locations as well as opportunities to advance knowledge and qualifications is very encouraging."
When it comes to living in Shetland, Jamie is most looking forward to getting out and exploring more, especially once he is reunited with his road bike. He said his priority will be to go cycling around Shetland, enjoying the amazing scenery and ever-changing landscapes.